Escort MAX 3
$399.99
-
Out of stock
Description
Stay safe with the Escort MAX 3 radar detector
If you're looking for rapid, reliable warnings without any extra bells and whistles you might not need, Escort's MAX 3 radar detector might be the perfect solution for you. It boasts long-distance coverage and built-in GPS so it can use Escort's database of red-light and speed cameras to keep you in the know. Bluetooth® connectivity means you can take advantage of Escort's smartphone app for real-time alerts from other drivers on the road, for added security and convenience.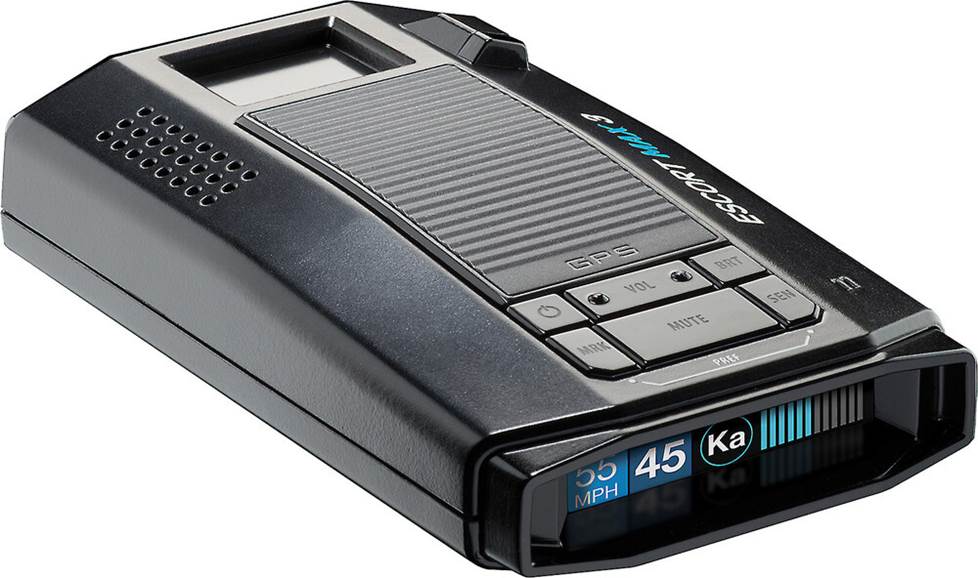 Robust, long-range coverage against multiple bands
The Escort MAX 3 shields you against X-, K-, and Ka-band radar signals, plus multiple laser threats. Escort's advanced sensors now look for the signature of each signal the MAX 3 encounters, to weed out false alerts and to get the information to you more quickly. You can keep a low profile, thanks to this detector's invisibility to VG-2 radar-detector detection.
The Escort Live app keeps you in the loop
The Escort Live app is a simple way to get your iPhone® or Android™ smartphone involved in reducing your stress while driving. The app combines your GPS location information with real-time reports from other Escort Live users to keep you abreast of potential threats in your vicinity. You can also use the app to report your own sightings of enforcement or other potential travel hazards, which will then be instantly available to other Escort Live users. The app also alerts you to major changes in the posted speed limit, so you can stay on top of the situation. The Escort Live app is free to download, but a subscription fee is required to use many aspects of the Escort Live service — Escort includes a 1-year trial of the Escort Live Premium service with purchase of the MAX 3 detector.
Easy-to-read alerts
The Escort MAX 3's multi-color OLED display delivers timely alerts in a user-friendly fashion. You can choose the backlight color to complement your vehicle's interior lighting, and the easy-to-recognize icons and graphics really stand out on the detector's screen. You'll also get voice alerts in English or Spanish so you can make timely decisions while keeping your eyes on the road.
Included camera locations
The MAX 3 comes with Escort's Defender preloaded database of safety, red-light, and radar camera locations across North America, allowing the detector to warn you when you get near. You can download updates, back up your data, and maintain the database through Escort's website. You'll need a subscription and a computer to update the MAX 3's Defender database — Escort includes a free 3-month subscription with your MAX 3 purchase, and update subscriptions are available through Escort's website.
Store important points
Just tap a button on the keyboard to store locations along the road where the speed limit drops quickly, or where you might encounter heavy enforcement. The MAX 3 will warn you when you approach them in the future. Or press the mute button at the location of a known false signal — the detector will remember the signal, muting the alert the next time you pass by. You'll hear an alert if another type of signal comes from the same location. The AutoLearn feature can even lock out false alarms after three encounters with them in the same location without you having to do anything at all.
Smart features
Intelligent Speed Sensitivity automatically adjusts sensitivity based on your speed to help keep you focused on the road ahead. The MAX 3's In-Vehicle Technology (IVT) filter weeds out signals used by other vehicles for collision avoidance systems and adaptive cruise control which can often deliver false alerts.
Personalize your drive
You can set a number of features on the MAX 3 to accommodate your driving comfort level, including which radar bands you wish to monitor, which meter you'd like to see when a signal is detected, and other enhancements. If you want, you can have the detector warn you when you're going faster than a pre-determined speed limit. You'll have three sensitivity levels to choose from and five different brightness settings, including fully dark.
Works with your Kenwood or JVC touchscreen radio
If you've got a recent JVC or Kenwood touchscreen receiver that supports Apple CarPlay® and has an iDatalink port, you can see alerts from the detector through the stereo's display. You just need to add a couple of adapters to make it work: the iDatalink Maestro RR2 interface module and the Escort Maestro portable detector kit. Once connected to your compatible stereo, you can enjoy a large-screen view of the band detected and your current speed on your radio's large screen.
Note: If you already have a compatible JVC or Kenwood stereo and an older (pre-2019) iDatalink Maestro RR module, you must replace the older Maestro module with the newer RR2 module — the older RR module lacks an input that is required for a connection with the portable detector kit and will not work with this detector.
Everything you need
Escort includes a travel case, an EZ Mag windshield mount, and a 12-volt SmartCord with the MAX 3. The SmartCord features smart and coiled sections and allows you to see alerts when the detector's in fully dark mode, or to mute the detector without touching it. And when it's time to update the Defender database of cameras and enforcement areas, the detector's mini-USB input makes it easy for data transfer from your computer.
Sorry, but we cannot ship radar detectors to Virginia or the District of Columbia.
Product highlights:
radar/laser detector featuring Bluetooth, GPS protection, and preloaded database of red-light and radar cameras
package includes:

EZ Mag magnetic mount
padded travel case
straight/coiled SmartCord cord with mute button and alert LED

headphone jack
mini-USB input
multi-color OLED graphic display with multiple display modes
Protection:
detects 17 radar bands (selectable) and POP
360° laser protection
digital voice and audio tone alerts for radar, laser, and POP
In-Vehicle Technology (IVT) Filter eliminates false alerts from collision avoidance systems and adaptive cruise control
sensitivity modes: highway, Auto (speed-based), Auto No X, and Auto Lo K
VG-2 immunity
8 programmable features
Mute, AutoMute, and SmartMute modes
GPS Features:
Defender camera database updates through USB connection to Escort website (mini-USB cable not included) — 3-month trial subscription included
"Mark Location" feature remembers points for future warnings
AutoLearn feature remembers sources of false signals and mutes alerts
over-speed alert
Intelligent Speed Sensitivity
Connectivity Features:
Bluetooth wireless compatibility with Escort Live service through smartphone app (1-year free trial subscription included)
compatible with Escort M1 dash cam
Specifications:
dimensions: 2-15/16″W x 1-1/4″H x 5-3/16″D