JL Audio HD1200/1
$1,499.99
Local Pickup Only
-
Mono subwoofer amplifier — 1,200 watts RMS x 1
Description
Small amp, sturdy power
A JL Audio HD Series amplifier offers steady performance from an ultra-compact chassis. The HD1200/1 mono amplifier pushes up to 1,200 watts RMS to your sub, from a 2″ tall chassis that's about the size of a sheet of computer paper. The regulated power supply allows this amp to deliver its rated power to a wide range of impedances (from 1.5 to 4 ohms), even when voltage levels drop during heavy use.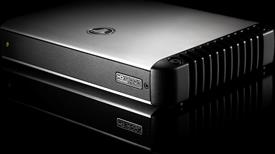 JL Audio technology goes to work for you
HD Series amplifiers reproduce your music with exceptional accuracy, so you'll hear high-fidelity sound even under the most demanding conditions. JL Audio uses Single Cycle Control™ technology to eliminate the excessive signal distortion that's plagued Class D amplifiers in the past. Differential-balanced inputs eliminate noise before it hits the preamp stage, and allow you to connect the amp to just about any in-dash stereo. Translation? You'll hear clear, true, studio-quality audio, exactly what you expect from JL Audio.
Cool and convenient
This Class D amp uses less power, takes up less space, and generates less heat than traditional amp designs — you can even stack up HD Series amps to create a sweet-looking installation. With the optional wired remote you can control your HD amp's volume from the front seat. Removable power and speaker plugs make it easy to pop this amp out if you need the space in your cargo area.

Product highlights:
mono subwoofer amplifier
1,200 watts RMS x 1 (rated power from 1.5 to 4 ohms)
variable high- and low-pass filter (50-500 Hz 12 or 24dB/octave)
switchable subsonic filter (30 Hz) and output polarity control
removable power and speaker plugs
optional wired remote for level control
optional HD stacking kit for stacking multiple HD amps together
Single Cycle Control Class D amplifier design
Regulated, Intelligent Power Supply System (RIPS) ensures consistent power output over a wide range of battery voltages and load impedances
differential-balanced inputs eliminate noise from your vehicle's electrical system
speaker- and preamp-level inputs (speaker-level input requires an optional adapter)
preamp outputs
4-gauge power and ground leads and a 100-amp fuse recommended — wiring and hardware not included with amplifier
no onboard fuses — when installing multiple amps in a system, an additional 100-amp in-line fuse between the distribution block and the amplifier is recommended
10-13/16″W x 2″H x 8-13/16″D
warranty: 2 years
MFR # 98250
What's in the box:
JL Audio HD Series HD1200/1 owner's manual
Monoblock Class-D amplifier
Self-adhesive JL Audio badge
Power connector plug
Speaker connector plug
4 Mounting feet
4 Bolts for mounting feet (M4 x 40mm)
4mm Allen wrench
2.5mm Allen wrench
Owner's Manual
Power wire note
Features & specs
The JL Audio HD Series HD1200/1 replaces these items:
Product Research
Features
Monoblock Wide-Range Class-D Amplifier: The JL Audio HD1200/1 is a very powerful and compact monoblock (single channel), wide-range amplifier utilizing patented Single Cycle Control Class D technology. This technology delivers reference-grade sonic performance while requiring far less current from the vehicle's electrical system than a conventional amplifier. Unlike most monoblock amplifiers, the HD1200/1 is a wide-range design (freq. response: 6 Hz – 8 kHz) so it can be used as a subwoofer amplifier or to drive high-performance midrange speaker systems.
Amplifier Rating: The JL Audio HD1200/1 Class D monoblock, wide-range amplifier is rated at 1200 Watts RMS x 1-channel at 1.5 to 4-ohm at 20-20kHz with a signal-to-noise-ratio of 110 dB and a total harmonic distortion of 0.03% while receiving 11 to 14.5 Volts.
High-Fidelity Class D (HD) With Single-Cycle Control: The JL Audio HD1200/1 utilizes Single Cycle Control Class D technology for all channels. This patented technology delivers reference-grade sonic performance while requiring far less current from the vehicle's electrical systems than a conventional amplifier.
Compact/Efficient Design: The JL Audio Class D amplifier on average is 13% smaller overall and over 1/2-inch shorter in height than most class-AB amplifiers. The HD1200/1 features outstanding overall efficiency (80% at 1/2 rated power) which allows for huge power from a tiny chassis and is easy on your vehicle's charging system, drawing 60% less current than a class AB design of equal power.
R.I.P.S. (Regulated, Intelligent Power Supply): R.I.P.S. stands for "Regulated, Intelligent Power Supply" and is a central feature of the JL Audio's HD amplifier. The JL Audio R.I.P.S. System ensures consistent power delivery over a wide range of battery voltages and load impedances. This technology provides optimum power at any impedance level between 1.5 ohms to 4 ohms per channel and at any vehicle voltage level between 11V and 14.5V.
Regulated Power Supply: "Regulated" means that the power supply adjusts its operation so as to maintain the amplifier's rated power output and low distortion operation over a wide range of vehicle voltages (11V-14.5 V). This allows the JL Audio HD amplifier's the rail voltage and clean power output to remain stable in real-world car-audio systems, resulting in superior fidelity and stability.
Intelligent Power Supply: The "Intelligent" portion of the R.I.P.S. System is a circuit that actually monitors output current to optimize the amplifier's output power over a wide range of load impedances (1.5 ohms to 4 ohms per channel). The R.I.P.S. System detects the actual impedance being driven and adjusts output rail voltages to deliver optimum output. The entire process is seamless, automatic, and results in incredible dynamics for satellite channels and consistent power output for a wide range of subwoofer configurations. It also takes into account the real impedance of your car-audio system, rather than relying on often inaccurate assumptions based on a speaker's rated impedance.
RealSink Heat Management With Rollback Protection: This JL Audio amplifier employs an advanced type of heat management, called RealSink. This feature takes advantage of convection and radiation effects to remove heat from the amplifier circuitry. For optimum cool performance, the vertical heat sinks located at the sides of the amplifier should be exposed to as large a volume of air as possible. If a JL Audio HD amplifier should ever reach an unsafe temperature, its unique Advanced Rollback Protection circuit also adjusts power until the amplifier cools down, without ever shutting your music down.
Differential-Balanced Inputs: The JL Audio amplifier features differential-balanced input architecture to effectively control noise and ensure compatibility with a wide variety of source units, including many OEM systems. Without resorting to line output converters, you can directly connect most OEM source units to the JL Audio amplifier without creating any noise or compatibility issues. Unlike conventional single-ended inputs, the differential-balanced design does not connect one side of the audio signal to chassis ground. This eliminates any voltage sensitivity between one input terminal and ground and greatly reduces the incidence of alternator whine in a typical car audio installation. The JL Audio HD amplifier provides range switching on each of its inputs via the "Input Voltage" switch. This permits connection to a wide range of source voltages while retaining excellent sensitivity setting precision.
Note: You will need a speaker wire to RCA adaptor (136XDCLR2S, sold separately) to connect this amplifier to your headunit via speaker-level.
Protection Circuitry With Status Indicator Lights: There is a single multi-color LED on the control panel of the amplifier to indicate the amplifier's operating status.
Flashing Green: When the LED is flashing green, the amplifier is powering up and audio output is muted.
Constant Green: This LED lights green to indicate that the amplifier is turned on and operating normally.
Constant Red: This Red LED lights to indicate that the amplifier has exceeded its safe operating temperature, putting the amplifier into a shelf-protection mode, which reduces the power output of the amplifier. The red light will shut off and the amplifier will return to normal, full-power operating mode if the heat sink temperature drops back to a safe level.
Constant Yellow: This amber LED lights to indicate that the impedance of the speaker load connected to the amplifier is lower than the optimum impedance load range for the amplifier. When this light is on, a protection circuit engages and reduces the power output of the amplifier. The amber indicator will also light when a short-circuit is detected in the speaker wiring.
Alternating Red/Green: The LED alternated between Red and Green to indicate that the amplifier is experiencing a fault that may require service of the amplifier, its wiring, or the vehicle's operating system. Audio is muted when this fault occurs.
Note: Only one condition will shut down the HD1200/1 completely–if the battery voltage of your vehicle drops below 10 volts.
Mounting Options: The HD1200/1 has two mounting options to choose from during installation:
Standard Mounting: The standard method of mounting requires removal of the four corner caps with the 4mm Allen wrench included with the amplifier. Using the appropriate mounting screws (not included), you can then secure the amplifier in all four corners and replace the corner caps.
Lateral Mounting Feet: Lateral Mounting Feet are also included with the HD1200/1 to provide an alternative mounting option. Each mounting foot should be attached to the bottom of the amplifier by screwing the provided bolts into the bottom of the amplifier and up into the corner cap with the supplied 2.5mm Allen wrench. Then, using the appropriate mounting screws (not included), you can secure the amplifier by its four lateral mounting feet.
Stacking: With the optional HD Stack Kit, you can stack one HD amp on top of another HD amp.
Controls
Control Panel Cover: The HD1200/1 features a Control Panel Security Cover which protects and hides the amplifier's controls. When installed, the cover ensures that the amplifier's settings are not accidentally changed while creating a clean aesthetic look for the amplifier and your installation. The control panel security cover is pre-installed at the factory and must be temporarily removed for access to the amplifier's controls. The security cover is secured by a single 2.5mm Allen-head screw.
Simplified Gain Setting: The amplifier's R.I.P.S. feature also allows for easy gain setup. Because the amplifier will always deliver the same amount of power within its operational range of impedances and supply voltages, the maximum, unclipped output is very predictable. This makes setting the gain level of the amplifier via the input sensitivity control very simple. All you need is Digital AC Voltmeter (142TK12V, sold separately) and a Test CD Disc (503CD104, sold separately) with a sine-wave test-tone recorded at 0 dB reference level in the frequency range to be amplified for that set of channels (50 Hz for subwoofer channels, 1 kHz for a midrange application).
Flexible Input Section And Active Crossover Network: The JL Audio HD amplifier provides a flexible input section and a comprehensive crossover network to fine-tune your system effectively and accurately. The variable filter design employed in the JL Audio HD amplifier crossover sections allows you to seamlessly switch slopes, easily change filter frequencies, and address what frequencies the preamp outputs will pass. The HD1200/1 offers the following independent crossover adjustments behind a removal cover plate:
Input Voltage: The wide range of signal input voltages is divided into two sub-ranges. You can select "Low" if the input is 200mV to 2V, or "High" if the input is 800mV to 8V.
Filter Mode: The amplifier features a variable Low-Pass or High-Pass filter mode for the amplifier's preamp input section. The filter can also be turned off for wide range operation.
Filter Slope: When the low-pass or high-pass filter is active, you can choose between a 12dB/octave Butterworth filter or 24dB/octave Linkwitz-Riley filter.
Variable Frequency: The cutoff frequency for the filter can be set between 50 and 500 Hz.
Infrasonic Filter: The Infrasonic Filter is a 24 dB/octave high-pass filter, with a fixed cutoff frequency of 30 Hz. This filter is designed to conserve amplifier power and protect subwoofer systems, without audibly degrading the sub-bass output. You can set the filter to On or Off.
Output Polarity Control: Depending on the distance relationship of the mid-bass speakers and the subwoofers in your system, it can be desirable to reverse the polarity of the subwoofer system in order to produce a better transition between subwoofer and midbass speaker output. The amplifier's Output Polarity switch allows you to quickly perform this polarity inversion.
Connections
Power/Ground/Turn-On Plug: The amplifier features a Power Connection plug which detaches from the amplifier to make connecting your power, ground, and remote turn-on lead wires more convenient. Allen wrenches are supplied for tightening or loosening the set-screws. Once your connections are made, the Power Connector simply plugs into the amplifier.
Power and Ground: The amplifier's set-screw Power and Ground connections on the detachable Power Connection plug are designed to accept up to 4 AWG power wire. For power wire runs of more than 72″, a minimum of 2 AWG wire should be used from the battery to a fused distribution block, then reduced to 4 AWG wire near the amplifier.
Remote Turn-On: The amp's set-screw turn-on lead receptacle on the Power Connection plug will accept 18 to 12 AWG wire.
Note: The Amplifier is not equipped with a fuse. An external 100-amp AFS, ANL, or MAXI fuse (not included) must be installed on the power wire. If a wiring kit is used which includes a fuse with a value other than 100-amps, the original should be replaced with a 100-amp fuse.
Speaker Output Plugs: The amplifier features one Speaker Output plug which detaches from the amplifier for easier speaker wire connection. Once your speaker wires are connected to these plugs, they simply push into the amplifier. The Speaker Output plug features four set-screw terminals for an easy parallel subwoofer connection. The HD1200/1 amplifier's four set-screw speaker terminals found on the Speaker Output plug will accept 16 to 12 AWG speaker wire. A 2.5mm Allen wrench is supplied for making connections.
Preamp Inputs: The amplifier features one set of differential-balanced RCA jack inputs. The amplifier features a dedicated Input Sensitivity gain control for these inputs. These controls are designed to match the input sensitivity of the HD1200/1 to the specific signal source that is feeding it. The amplifier's input level can be set to Low (200mV-2V RMS) when connecting the amplifier to a low-level preamp signal or set to High (800mV-8V RMS) when connecting the amplifier to a high-level speaker signal.
Preamp Outputs: The HD1200/1 incorporates a pass-through preamp output sections so that additional amplifiers can easily be connected to the same signal feeding the HD1200/1. The preamp output signals are buffered to prevent noise and are always preamp level, regardless of the level of signals feeding the HD1200/1's inputs.
Remote Level Control: The amplifier features an RJ-14 standard telephone connector for adding an optional wired remote level control. With the addition of the optional wired HD-RLC Remote Level Control (sold separately), you can control the volume of the HD1200/1 form the front of your vehicle. This is useful for subwoofer level control. If desired, multiple HD amplifiers can be controlled from a single HD-RLC controller using a simple phone line splitter and multiple phone cables (all sold separately).
Note: All inputs and outputs are located on the rear of the amplifier to make installation of the amplifier simple and neat.
THE JL AUDIO HD SERIES HD1200/1 REPLACES THESE ITEMS